---
Features
300B Single Ended Triode circuit with two Psvane 300B, one 6SN7, one 6SL7, and one 5AR4 vacuum tubes.
'Single Ended Triode' operation represents the simplest and purist circuit possible.
Conservatively rated at 8 watts per channel (average listening level for our Audio Nirvana full-range speakers is 1/10 of a watt).
Each amplifier is individually handwired with point to point wiring.
No integrated circuit chips.
Real potted transformers wound in our own factory.
Oversized toroidal power transformer runs cool and efficiently with plenty of reserve.
Cooling holes around each tube to maintain cool running temperatures.
Excellent build quality will ensure years of reliable service.
Polished stainless steel chassis.
Brushed aluminum face and back plates.
'AN' logo is also the knob pointer.
4 or 8 ohm speaker terminals.
Voltage selector for 115 or 230 volts.
$1495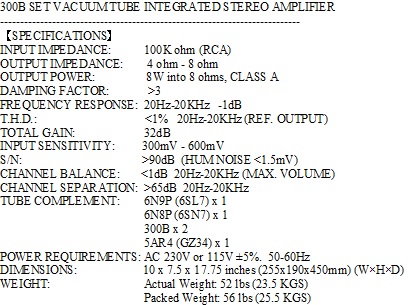 ---
Audio Nirvana 6V6 Ultralinear--$995 (in black), $1095 (in polished stainless steel)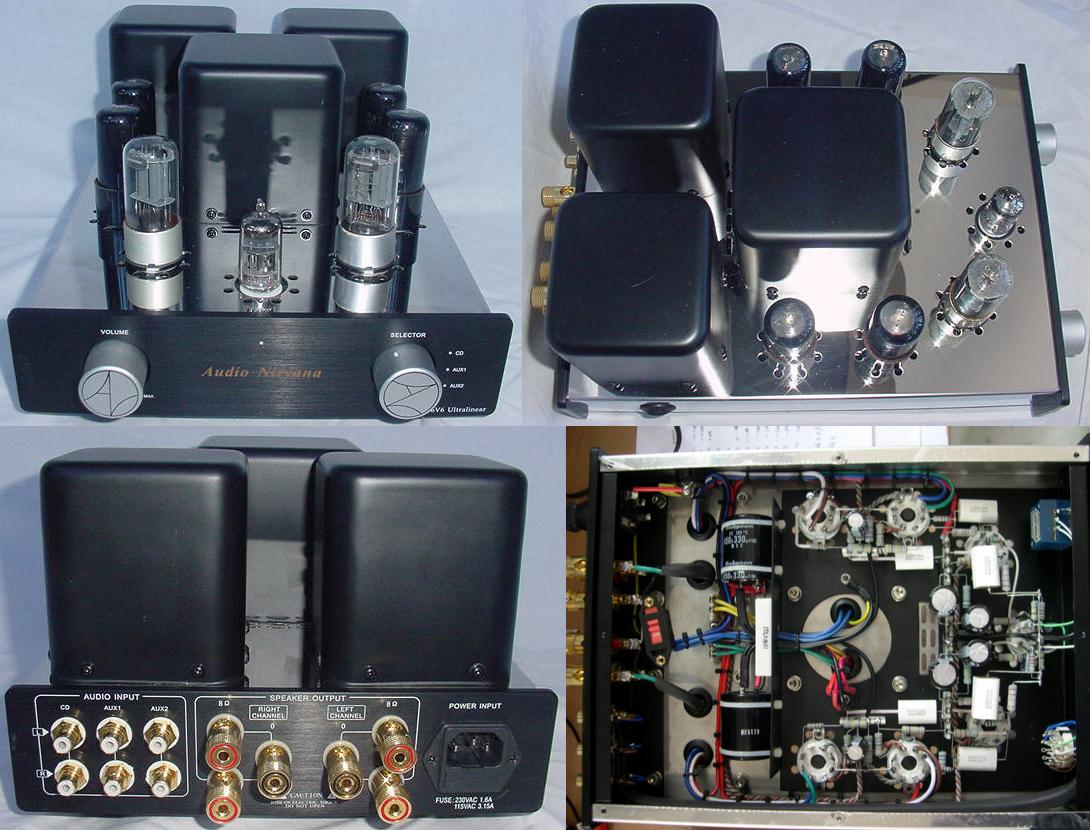 ---
45 years of experience tells us that the best sounding 'push-pull' amplifiers use 'ultralinear' output transformers. Our 6V6 Ultralinear is based on several 'classic' circuits, but refined by our audio engineer of many years experience. It uses an enormously powerful toroidal power supply protected in a real potted case (not a dummy one as many companies use). Output transformers are massive and feature the extra set of windings that ultralinear circuits require--and are handwound in our own factory. Parts are chosen for the best possible sound quality--not because we want to impress you with 'boutique' names. Each amplifier is beautifully hand assembled and tested. To maintain the superb sound, there are no adjustments to be made--ever. Self biasing, no AC or DC balance to adjust. And made with the fewest parts possible and best sounding tubes.
---
Features
6V6 'Ultralinear' circuit with four 6V6, two 6SN7, and one 12AX7 vacuum tubes.
'Ultralinear' operation combines the best features of Single Ended and Push-Pull amplifiers.
Conservatively rated at 12 watts per channel (average listening level for our Audio Nirvana full-range speakers is 1/10 of a watt).
Each amplifier is individually handwired with point to point wiring.
No integrated circuit chips.
Real potted transformers wound in our own factory.
Oversized toroidal power transformer runs cool and efficiently with plenty of reserve.
Cooling holes around each tube to maintain cool running temperatures.
Excellent build quality will ensure years of reliable service.
Polished stainless steel or matt black chassis.
Brushed aluminum face and back plates.
'AN' logo is also the knob pointer.
4 or 8 ohm speaker terminals.
Voltage selector for 115 or 230 volts.
$995 in black or $1095 in polished stainless steel.
---
Big Joe II--$199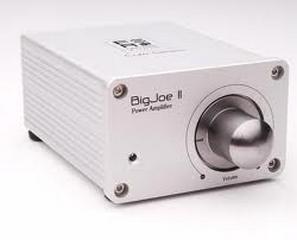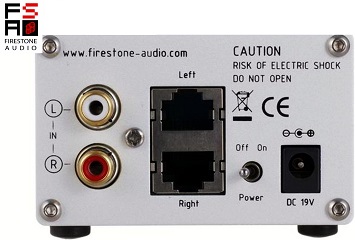 We spent a lot of time looking for a high quality, low cost amplifier for our customers. We listened to many inexpensive Class A-B, T amps, and Class D amps. Highly recommended by one of our distributors in Japan, the Big Joe II is the best sounding of them all. About the size of an I-Phone, it's rated at 20 watts RMS, but makes super low distortion up to about 14 watts. Considering that average listening level of Audio Nirvana speakers is only 1/10 of a watt, this is many times what's required.
Unlike other dealers, we sell our Big Joe II with two sets of speaker wires: one 2 meter pair ending in male banana plugs and an adaptor pair that allows you to use any speaker wires you choose. The Big Joe II has a passive line stage, internally, so no preamp is required. Just plug in your source, hook up the included wires, and you're ready to go.
Click Here to see Specification Sheet
---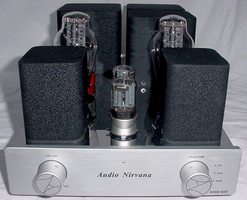 Buy Now!
Audio Nirvana 300B SET Amplifier
($1495 plus $55 shipping)
USA Customers: Click on the 'Add to Cart' button below for instant purchase.
International Customers: Please email for prices.
david@anspeakers.com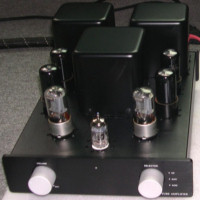 Buy Now!
Audio Nirvana 6V6 Ultralinear Amplifier in Matt Black
($995 plus $35 shipping)
USA Customers: Click on the 'Add to Cart' button below for instant purchase.
International Customers: Please email for prices.
david@anspeakers.com
---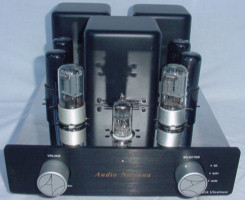 Buy Now!
Audio Nirvana 6V6 Ultralinear Amplifier in Polished Stainless Steel
($1095 plus $35 shipping)
USA Customers: Click on the 'Add to Cart' button below for instant purchase.
International Customers: Please email for prices.
david@anspeakers.com
---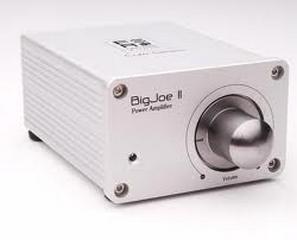 Buy Now!
Big Joe II Amplifier
($199 plus $15 shipping)
USA Customers: Click on the 'Add to Cart' button below for instant purchase.
International Customers: Please email for prices.
david@anspeakers.com
---
Speaker Design Software
Want to design your own cabinets? Get Google 'Sketchup' software for free:
---
Shipping Information
Audio Nirvana speakers are very heavy, because of the large magnets, and some pairs ship in two boxes. Shipping prices range between $14 and $60 (depending on model), here in the US. Insurance is included. Overseas customers should email us for shipping prices at david@anspeakers.com
---
Warranty Information
All speakers and amplifiers are covered by a one year warranty against original manufacturing defects.
---
Miscellaneous Comments
We're happy to share our 40 years of audio experience with other enthusiasts. Feel free to contact us with any questions you might have on any audio subject.
You can purchase any of our cabinet construction plans for only $25. We will also include a parts list and setup tips. If you later purchase speakers from us, we will refund this $25.
We guarantee your satisfaction. If you are unhappy with your speakers or amplifier--for any reason--you can return them (in new condition) for a full refund.
---
Conclusion
You can purchase speakers, with a free cabinet plan, parts list, and setup tips, for as little as $88/pr. We can also help you adapt existing speaker cabinets for Audio Nirvana speakers. Let us know how we can help you reach your goal of obtaining the best sound possible at an affordable price.
---
Contact

David Dicks

CommonSense Audio

34 Wild Horse Way

Chesterfield, Missouri 63005

USA

Email:

david@anspeakers.com
Telephone:

636-536-0028

FAX:

636-536-0028
---
What Our Customers Are Saying:
"Wow, wow, and WOW! I am completely blown away by your Audio Nirvanas paired with the Creek amplifier. Thank you!"--Stephen Aichele
"Holy cow!! They are amazing. The sound is unbelievable."--David Borts
"Oh my GOD I love these speakers! I love them so much. Amazing. just amazing."--David Riesenbeck
"I finished the speakers and they sound great!!!!!!!!!!! Absolutely unbelievable!!! The combination is the best audio I have ever heard hands down! The bass and the highs plus everything in-between is incredible!"--Wes Bishop
"Jesus! The sound! I still can't believe it! I've since invited 'mates' around and we still can't believe it....the sound is cohesive, present, bass galore, mid's to die for...but an upper clarity and resolution that defies their price point! I can't believe it! I think I stated that before? Most so far have been stunned! It is incredible and satisfying....go figure? No dry as a bone single driver sound here! Did I mention the bass? I can't believe it...."--Dave Thompson (from Australia)
"I just wanted to say thank you for the best speaker I have ever heard. I did the 2.8 Big Port enclosures and all I can say is 'WOW'! I will be buying some more speakers from you soon. Again thank you for making such a great speaker."-- Dallas Richardson
"The sound is unbelievable! Damn! All I can say is your drivers are absolutely amazing. Even compared to my 15 inch ALTEC coaxes.."--Jam Hamidi
"Full, rich, natural sound. After this I will never buy manufactured speakers again. Fullrange speakers........are the only way to go. They sound better than anything out there. The sound out of this system is the best, bar none "--Kevin James
"Thank you, thank you, thank you. Still sitting here in awe, this blows my mates $62K+ stereo away. 12" Cast Frames, in the 5.6 cabinet, are a gem. WOW!"--Paul Eagle (from Australia)
"They sure can sing! I am blown away by the sound. In this day of snake oil, etc., these really do the job!"--Ben Garland
"After two days, I just keep putting on records and saying, 'Damn! Damn! Damn!' I've never owned speakers with such beautiful high end and rich textures. It's truly psychedelic sound. I'm running a pair of my own single 45 tube amps, with my own preamp, and there is no problem with the low 2 watt power driving these."--Jeff Brown
"I don't remember a time, even when I was in the stereo business, that I have enjoyed my speakers so much. These Nirvanas rival anything I have ever heard--electrostatics, ribbons, horns, even Tannoys. Our PBS station, WUSF (University of South Florida) made the switch to all digital sometime last year and there are times I would swear the sound was live, right here in the room! Now don't let this praise cause you to raise the price of the Nirvanas, but they are great! Thank you!"-- Al Cook
"Speakers complete. WOW!!!!! They sound incredible. I was worried about the bass response but these are beyond what I expected. I'm finally hearing things in the recordings I haven't heard before. The imaging is awesome and I still haven't played with positioning to get the best image. Thank You!"-- Paul Blais
"I received the speakers last week, built the 1.3 enclosures this past Saturday, and all I can say is wow! Best sounding speakers these ears have heard in a long time, maybe ever. I'm running them off a Trends Audio 10.1 amp and am getting superb detail. All this and they aren't fully broken in yet!"--Matt Medel
"I was stunned at how amazing your full-range speaker sounds. I thought I was at a live performance. The midrange and treble were almost beyond belief, as the veil was lifted and I was shocked at the beauty of what I was hearing. I feel your product makes everthing else I have heard pale by comparison."--David Eskins
"The results are mind blowing.....awesome. Superb. I had direct AB comparison with my JBL and my friend's B&W. And results are unbelievable.....Both speakers sound like 'zero' compared to Audio Nirvana. Me, and my other friends, don't believe their ears. How outstanding AN are! For so many years we were listening to that horrible sound."--Manish Gupta (from India)
"My wife and I have never been so happy with a pair of speakers. Who would have thought that this much sound could come from one speaker without a crossover? Man, I have spent a lot of time going in the wrong direction. Thanks for setting us straight. Your fullrange speakers are the bomb!"--George Pearson
"I LOVE THESE SPEAKERS! You have sold me a fine product, and I really don?t see any room for improvement. I'm going to keep these for many years to come. I could go into great description about them--soundstage, detail, and all that kind of stuff, but--in a nutshell--my wife and I love these speakers. Thanks for all the help and your unending patience as I settled on which ones I wanted to build."--John Conley
"There's a pretty accurate assumption among Hi-Fi hobbyists and audiophiles that all Hi-Fi products are a trade-off in some area. "No product has it all, so suck it up and be willing to live with the strengths and weaknesses." These Audio Nirvanas challenge and defy that assumption. Natural, natural, natural, natural. I know it's cliche, but the listener is in the room with the musicians. Especially on vocals and acoustic instruments (where most speakers have some degree of difficulty), the realism is uncanny. Plenty of bass extension, a deep and wide soundstage, imaging, texture, timbre, it's there in all it's natural beauty and splendor.
The Audio Nirvanas have moved to the front of the class. I honestly can't think of a single criticism or flaw sonically. There are no trade-offs or compromises.
Caution. If you get a chance to hear these, be prepared to change your standards of what good Hi-Fi should sound like. If I were Audio Nirvana owner David Dicks, I'd be very tempted to barnstorm the country, challenging all comers to comparison listening, and betting on the outcome. I've not heard any speakers at any price that could beat them."--Doug Adell
"I really love the Super 15 Cast Frame speakers. I am just going to sell my MONITOR AUDIO GR60's that cost me almost $4000. I am amazed at the delicacy and detail that this 15" driver can deliver throughout the entirety of range, treble right down to bass. I can't keep away from them and, even though I am unable to fault the sound at this stage, I look forward to getting the first 300 hours playing. It's hard to believe they could possibly be any better than they are at the moment."--Reamann MacBiatiagh (from Northern Ireland)
"I was your worst non believer. I built speakers for Studio Lab of Canada about 15 years ago. I was schooled by the mass belief that three-way systems were far superior in sound quality. I was wrong. I have recently sold my B&W DM7MK2's, and I am currently enjoying the A.N. Super 12 Cast Frames. These things outperform any drivers by a landslide! I am still in disbelief that one driver can create such range and definition. The speed and accuracy of these drivers is simply stunning. I have since had the opportunity to audition the Fostex 8's vs. the Audio Nirvana's and there is simply no comparison. Needless to say, I am now a diehard Audio Nirvana believer."--J.Burzese
"Congratulations on your extraordinary design. I am just overwhelmed by the sound these babies produce. For me, it was by far the best buy I have made since I am in this hobby. Regards from Austria."--Bernhard Kaiser
"Speakers arrived and I must say they are superb. The tone is amazing--the best I have ever heard, and I have heard alot. I find them to be so enjoyable that I get engrossed in the music and forget I am listening to speakers at all--amazing!"--Ross Flavin
"WOW. The sound is full and lush and not veiled, like on other speakers. Jazz really sounds great. Horns and sax have that organic raspyness to them. Of course vocals also sound great. Techno is awsome. A lively sound with clean, powerful, effortless bass. A real joy to listen to. The dynamic range is astounding, from a mellow flute to a crashing crescendo that can make you jump out of your chair. A lively presentation that is at home with any kind of music. The sound is natural, realistic and effortless The sound of these speakers is so different from anything Ive ever owned or heard. Truly amazing."--Jim Householder
"I am getting the best sound I have ever heard. In fact, on many nights I have stayed up 'til 5 in the morning listening to music. Your speakers have given me back the thrill of listening to music. Moreover, my wife is now interested in listening to music. I even get excited listening to classical music, something that never interested me before."--Jeff Heath (from Australia)
"I will keep these speakers for the rest of my life. I wish that I had the words to describe what I am hearing with these speakers. It's the way I always thought a speaker should sound. You must be a genius. I really enjoyed the time you took with me, auditioning these magnificent creations and exposing me to your music collection."--Roman Klujew
"A little about me; I co-founded DIGITAL DESIGNS, now DD Audio, in the early 80's. I have been designing very high quality transducers and speakers for over 30 years. My speakers have been used as near-field monitors for Universal Studios, Walt Disney Studios, GTE Imagatrack, The Record Plant, and countless TV, radio stations, and recording studios world-wide.
I am also a professional musician, playing the trumpet with two nationally distributed CD's to my credit. I know what music sounds like, and what technical expertise, as well as applied art, it takes to create a speaker that sounds like real music.
I purchased a pair of your AUDIO NIRVANA SUPER 10's and.....
Damn, Damn, Damn! Truly Unbelievable! Without a doubt one of the FINEST speaker systems I have ever heard at ANY price! Truly recreating the sonic texture and time domain of a LIVE performance! Cudos to you David, you ARE the man! Well pleased."--Dr. Paul D. Vogt
"I exhibited at the HiFi Wigwam show yesterday and demonstrated my Audio Nirvana 2.8 MkII's. They went down like a storm! I had about 50 visitors to my room and not one adverse comment. Many were 'blown away, amazed, stunned', etc. My primary target audience, those who are contemplating a diy project, were universally convinced, and many left vowing to 'get started straight away'. Many came around two and three times, saying that my modest system was making the best music of the show!! Many also took photos and asked all sorts of questions about cabinet construction, etc. and couldn't believe the simplicity, some getting on their knees to look through the 'Big Port' to glimpse inside.
Attached are some pics of my other 'Ambience' speakers. I have to say the sound is sensational--a massive soundstage with huge depth, amazing detail, and tons of bass wallop when called upon. I'm delighted. They could probably do with some grills but I'll get round to that when I can tear myself away from listening to them. Thanks."--Steve Dixon (from the U.K.)
"I have to say that I was not prepared for the sound that emerged! These drivers are truly amazing. The imaging, articulation, precision and smoothness were truly exquisite. The next day my principle engineer, Gary Fulton, arrived along with Joe Mendyk, who was our first engineering mentor and still is one of the finest rock tracking recordists I know. I eagerly awaited their evaluations and we spent an hour and a half listening to various tracks and different genres of music. I chose the same cut for the debut performance and with great pleasure watched the expression of astonishment form on the faces of these two veteran sound men. (Gary has an additional specialty; he has mastered over two hundred CDs along with some extensive restoration and forensic audio work). We heard things in familiar recordings that we had never noticed before. When the audition was over, Gary looked at me and said, "I have to have a pair of these". That was good enough for me."--Dan Harrison, Jaguar Music
"To say I was absolutely AMAZED, is an understatement. Since I have never listened to a single point source driver, I had no idea what to expect. What I heard was crystal clear music. The midrange is better than I have ever heard before and the highs are precise. I still find it hard to believe that ALL that sound is coming from a single driver. Needless to say, the plans are already on the board for the next set of speakers I'm going to build. I will never have any speaker other than a single point source driver for my critical listening. Thanks for offering such a great product."--Richard Chase
"Fantastic. Hard to explain how fast and alive they sound. Timber and tonal balance are awesome. Never heard piano like it's in the room before. The balance from bass to high treble is unbelievable. Now they are playing in the house of my good friend (who is, by the way, the son of Ivo Pogorelic, one of the world's best pianists), and if he says the piano plays like it's alive, in a way he never heard before, it's a big thing. So, I'm more than satisfied. It's far beyond my expectations."--Zoran Mergl (from Croatia)
"Well I finally fired the Super 12 Cast Frames up yesterday and, boy oh boy, I was bloody well flabbergasted. These are an awesome speaker. My wife is still shaking her head and doesn't believe they could sound so good, she is amazed at the sound. So am I, and with excellent bass, just blows my $16,000.00 CHARIOS out of the water. One happy camper."--Murray Smith (from New Zealand)
"Listening to the Audio Nirvanas has left me breathless. My expensive DYNAUDIO components are in a cardboard box never to be used again. I've built many speaker projects since the early seventy's. My speaker building odyssey is over. I have arrived. Out of the box - hands down - these are phenomenal sounding transducers. It has been so nice sitting in the studio with Ella Fitzgerald this morning. Vocal imaging on this speaker is effin perfect, warm and gorgeous. I'm looking forward to the discoveries the AN's will surely reveal. Wow! I'm raving to my friends. In the two days of being up and running, my wife has said thirty times or more how great these speakers sound. What a testimony. If I ever do another speaker project it will be A.N. without even thinking about it. Wow! Thank you for your undeniable killer product. I am a super happy guy! "--Chris Krupp
"I've heard many speakers in my time. I've been an audiophile, in one way or another, since I was a teenager. I've never heard speakers that sound as good as the Audio Nirvana Super 12 Cast Frame speakers. I feel that accurate detail is as important as, and an integral part of, accurate vocal reproduction. I was not disappointed. I'm very satisfied with the quality of the vocals, as well as the detail of all kinds of instruments reproduced through these speakers. I'm hearing drums like I've never heard them before. I'm enjoying the subtle nuances of a cello, like I've never heard them before. I'm hearing sounds that I'm only accustomed to hearing in live production. I knew that I had something special. The vocal reproduction is amazing. The full range of the vocal spectrum is represented in complete detail, clarity, and warmth. I went between Josh Groban, Loreena McKinnit, Lisa (celtic women), Norah Jones, Metallica, REM, The Corrs, Aaron Neville, Marvin Gaye, Tiesto, BT, ATB, Armin Van Buuren, NIN and many other talented artists with quality recordings of varying genres to critique the speakers. None of them let me down. These speakers reproduced them all in glorious sonic accuracy. I'm convinced that I now own a set of speakers that is appropriate for all genres. They put a smile on my face every time I turn them on. I never tire of their sound. They also improved my gear because I could hear the weakness of my other equipment through them and was therefore able to resolve it. I always felt KEF made a great value for the money speaker, but there is no reason to continue using the reference KEF's that I have at the moment. They simply sound muffled in comparison; like someone speaking to me with their hand over their mouth."--Christian Sjavik
"I cannot express how amazing these sound. I am overjoyed with the results. Wow, these are great! I'm selling my PARADIGMS!! Even though I literally finished yesterday afternoon we listened to them all evening! The bass is controlled and realistic. The treble clear and bright. These are revealing while still being musical. I can tell what the producer thought of the performers by how they were mixed. These reward great vinyl pressings but don't punish others. And, they can get up and boogie when asked."--Judith Rhodes
"The Audio Nirvana 'Super 8 Alnico' drivers are by far the most natural, neutral, musical, and extended full range driver I've ever owned or heard. I don't say this lightly. I've owned the "who's who" of both vintage and modern 8" full range drivers such as KLANGFILM, TELEFUNKEN, GOODMANS, JBL, FOSTEX, ALTEC 755s, and even $3K electromagnetic SUPRAVOX 215s. In the category of more common audiophile speakers, I've owned some of the more famous studio monitors such as HARBETH, ATC 20SLs, and VERITY AUDIO Parsifals. I've also owned electrostatics such as QUAD ESL57s and ACOUSTAT 3s with the direct drive servo amps. I am a professional in the manufacture of audiophile products and have been building speakers for over 30 years. I purchased the 'Super 8 Alnico' drivers to use in my reference R&D system for evaluation of the high end audio products my company manufactures. The 'Super 8 Alnicos' are among the most MUSICAL sounding speakers I've EVER heard, either custom made or in a high end audio store. They portray all the frequencies they cover, from about 45Hz to about 18KHz, in a very smooth and even fashion so that no specific frequency stands out or brings attention to itself. The tones of the instruments sound ORGANIC with a great deal of subtlety, rich harmonics, and natural attack and decay. They portray your favorite music with proper time, tune, musical flow, and organic tones and timbers as you have rarely, if ever, heard before. They are among the most musically coherent speakers I've ever heard. You would need to spend well over $5K to get anything that would even come close to their level of performance."--Benjamin Zwickel
"I want to express my profound satisfaction with your Audio Nirvana Super 10 Alnico speakers. I have been listening to everything on these speakers. There are many passages, on many of the tracks, where there are delicate chords that simply disappear on inferior products. On yours they are true and angelic. Voice is so clear, and the dynamics are so spectacular, that I can understand why you assert that these may be the best single point source driver on the market. Enough with hedging! These are hands down, and--by far and away--the best speaker. Period.
The harmonics and dynamics are not to be believed. I have a great friend, who plays piano, and he simply could not believe his ears. He repeatedly expressed his admiration for the uncanny sense of the presence. Bach's Concerto for Two Violins in D has such emotion with your speakers. On other systems, the violinists seem to be merely going through the motions. But with your speakers, it is a passionate and moving duet that sounds like a soaring love story. One can hear and sense the bite of the bow on the strings. I played violin for years and that bite of the bow is almost always missing or sounds untrue. But there is no falsity in your speakers! I know I am speaking in superlatives. But superlatives are demanded by your product. My admiration and respect for your efforts knows no bounds. I will never have any other speakers, Period."--David Dickerson
"The 5.6 Super 12 is dynamite from the get-go. Your product is superior. DYNAUDIO who? I have been a speaker builder for 40 years. Your audio nirvana drivers sound and look beautiful. Thank you for providing such a great product on a working man's budget. I'll tell ya, for classic jazz these are the best sounding loudspeakers at any price. I must say they certainly rock too. You've made it easy for a speaker builder to nail it with no fuss. Goodbye power hungry cross-over. Hello single pointsource super efficient speakers. I'm a happy guy! Thanks so much. Audio Nirvana is now my middle name."--Chris Krupp
"Popped in the demo disc, and voila, I had the singer right there in my room! The soundstage of the T-Amp, coupled with the high clarity, super detail, and awesome transparency of the Audio Nirvanas, brought the singer and the entire band, holographically into my room. It's like watching, and I mean watching, them live right there! The sensation was surreal and I've never experienced anything like that before.. Man... goosebumps upon goosebumps... The speed of sound reproduction, by the Audio Nirvanas Super 8, is simply awesome. Previously, on my other speakers, I'm straining to hear what's happening in the background. The percussion was being veiled behind a thick fog. It was blurry, dirty and groggy. With the Audio Nirvanas, it's like them being alive! Full of youth, energy, vitality and zest. The fog is gone and I can hear (see) them clearly, bright as day. I'm also able to place each and every one of the players exactly in the soundstage. Such is the awesomeness of the Audio Nirvanas. I began listening to my favorite cds, and am amazed they revealed hidden details with tracks I had listened to more than 100 times!!"--Derrick Lim (from Singapore)
"The 6 1/2's are up and running, and are certainly everything you claim, and then some. Absolutely superb. Fast, detailed, razor-sharp/pinpoint imaging, very natural sounding vocals, stunning dynamics without a trace of overhang, broad, deep stage with a black velvet backdrop. I'm looking forward to the post break-in sound very much if it's better than this. These really are extremely good loudspeakers. Thanks!"--Mark Franklin
" I have had the speakers for approximately a month now and all I can say is 'WOW'! The more you listen, the more you love these wonderful speakers. I have the Super 6.5's mounted in the 3.0 cubic foot "Tall John" enclosures and they have become my reference speaker. Give them a clear signal and just sit back and enjoy. The Super 6.5's are easily the most musical speakers I have ever heard, they bring Jazz alive. I know many have stated that full range speakers need super tweeters and sub's to round out the sound, well that is certainly not true with these. The highs would put many high end tweeters to shame and the low's will bring a string bass right into your listening area. The musical delivery of these speakers are so far above their cost it's ridiculous. Just to think of the times that I have built crossovers, that cost more than these drivers, just makes me shake my head, because now I have finally found the sound that I have been trying to reach. They are rich, open, and very detailed. Thanks for bringing me into the light of full range speaker design. I could not be happier with the Audio Nirvana line of speakers, they have it all. The Audio Nirvana's make all your old music new again."--John Parker
" The Audio Nirvanas, in 0.9 cu..ft. cabinets, carefully damped, sound better than any speaker system I have built to date. Everyone who has heard them agrees. My speaker-building friend in town, who has excellent ears, heard them and was totally impressed. I believe his final comment was, "I have never heard any speakers sound like that!" Having been a professional musician for many years, my ears are well-educated. I have listened extensively to the Audio Nirvana 8" drivers and the 8" FOSTEX FE206E. The Audio Nirvanas are FAR SUPERIOR to the FOSTEX FE206E, having more solid bass, as well as much smoother, more natural sounding midrange and highs. If you are purchasing the FOSTEX FE206E drivers instead of the Audio Nirvanas, you are wasting your money."--Beckon Duel
"I am very impressed with the Audio Nirvana speakers! I am so impressed that they are replacing my Bruce Edgar/ ALTEC LANSING horn system. It is now for sale on Audiogon! Let me say that this is quite a feat to top. I am hearing much more than I ever have. So, I am inspired with the "no crossover, single driver sound. I (also) built a speaker system using 2 of the 10" and 2 of the 8" Nirvana drivers per side. I am now running them on a 40 WPC OTL amplifier with $10,000 Theta CD front end. The sound of your drivers, no crossovers, no output transformers in the amplifiers and the Theta CD system is the best sound I have ever heard! I am VERY pleased....."--Mike Morrow (Morrow Audio)
"I loaded every driver that I have in a Tractrix front horn. This horn exposes every detail the driver has. The best driver was the LOWTHER DX3 ($1095/pr) but the Nirvana was a close second . They blew away the FOSTEX , having much better highs and detail. And your 6.5" Audio Nirvanas will belt out some sound...they rock! I'm convinced , after lots of research , that the Audio Nirvana's can't be beat for the price....."--Les Hudson (speaker designer and manufacturer)
"My dad was a hard bit audiophile for many years. He claims he is getting sound now, with the Audio Nirvanas in the 2.8 cabinet, that is as good as anything he's ever owned. I have to agree. My friend Mike was using VON SCHWEIKERT VR3s, a speaker that I liked and was hoping to compare with the 2.8s. We were both quite shocked to hear that the 2.8s not only were more open, unveiled, and detailed on the top, but were pretty close in bass extension as well. The VON SCHWEIKERT VR3s were an expensive speaker. The Nirvanas, in the 2.8 cabinet I built out of $60 worth of MDF and materials, had no right to sound as good as they did. Needless to say, I am very happy with the results and I am confident that I finally have a speaker I can trust to tell me how good/bad the other components are sounding."--Tom Rogers
"OK.....I am now the latest "true believer" in the cause of single driver speakers. After about 150 hours of break-in, it is apparent that those who are willing to suspend disbelief can experience something very special....even magical at times......The Audio Nirvana 8 inchers were a revelation. A whole new way of experiencing music....and probably the best way. The sound stage, spacing between voice and instruments, shear depth and width, is quite impressive. Tonality is honest to the front end of the chain."--Paul Van Name (Gateway Sound)
"I must say there is no exaggeration whatsoever in what you claim at your website. The immediate impression was that of a very distinct, but in no way aggressive mid, and an equally pleasant and "shimmering" treble, right in harmony with my sound ideals. The soundstage was very well defined, both in terms of width, depth and height -- true 3D. Then, the more I listened, the more I realized that the Super 8's brought out "micro-details" that the FOSTEX/EV350 combination wasn't able to reveal. Here was the "musicality" that I had been longing for. I listened to Leonard Cohen's Take This Waltz, and I got the impression that I could pinpoint to the inch the varying distances from his mouth to the microphone over the length of the song. Enter the solo violin, where I felt I could establish the amount of rosin on the bow. In the duet with the chorus girl, it was very obvious from the reproduced perspective that Cohen was sitting down, and she was standing up, right behind him, in my imagination with her hands on his shoulders. I know very well that this is all mic placement and control room imagery and not the actual facts of the studio setting, but I believe that's what the producer/sound engineer intended, and that's what I heard. I listened to several tracks from Pierre Bensusan's album Spices, and I don't think I've ever heard the right-hand technique of a bass player so clearly coming out of a pair of speakers......that is quite a task for any speaker, regardless of cost, to reproduce with accuracy and credibility. Listening to Dire Straits Your Latest Trick, I discovered that the trumpet wasn't entirely stable in the recorded soundstage (flaw in the recording?), and that I could hear the drummer varying the position he chose for his rim shots on the snare with a clarity that I don't remember from any of my previous listenings to the album. In other tracks, I could actually hear the varying amounts of compressor/limiter applied to the snare beats. You have developed some really world class speakers. Congrats! I'm a very happy customer."-- Anders Rydell (from Sweden)
"I just had to let you know, I've been sitting here listening to these babies crank out tune after tune, and I can't remember the last time I tapped my toe this much. OK maybe with a big 3 cubic foot bass reflex cabinet a bit more low bass can come out but, man, I'm telling you these speakers are working great in these sealed 1.75 cubic ft cabinets. I'm just smiling ear to ear! Fantastic on voice, great saxophone, nice drum sets, real, real nice! And I haven't even hooked them up yet with my high end rig, just a cheapo flea powered receiver. Very nice. Thanks for a great product."--Robert Hensley
"The 1.3s sound simply gorgeous, with all program material; no shrillness, ample bass. Detail is amazing. Bell tones are startling in clarity, strings are very rich, full and present, the sound stage is only limited by the sound source. Stuck one pair of Super 12's into some plywood open baffles. Wow. This is a big sound, even without the boxes. Midrange and detail just spectacular -- bass presence and articulation effortless. I'm listening to everything from Bonobo to Steppenwolf. Wow. I think you have the sound success story of the century. Thanks for a truly great product."--Brian Jarvi
"I cannot believe the clarity of this speaker. I've listened to some really expensive speakers in my 65 years. To my ears, these are as good or better than any I have heard. I can hardly control myself! These speakers are something else. Thank you for the advice during my selection process. All I can say is thank you and keep up the good work."--W. Cotton
"The mids and top end are open and detailed. Sonny Rollins and John Coltrane solos sound amazing. The overall sound is well balanced, detailed, and instruments have good weight on the low end. These are the best full range drivers I have ever heard."-- David Wilkerson
"I am an audio technician and have been building the "perfect system" since I was a teenager, amps as well as speakers. I am enjoying your speakers on a daily basis and everyone who has heard them agrees that they sound incredibly live. Coupled with a tube amp (Dynaco ST70) this is the best system I have ever put together. Thanx again."--Jon Marek
"The sound is rich and detailed with great punch. The detail is just amazing. I played some Dire Straits, followed by Vivaldi's Four Seasons, which literally brought tears to my eyes. Never heard that sort of detail before. Very impressive all round. Following the reaction of those who've seen them, I'm going to have two plaques made up, one for each: Shock & Awe."--Stephen Price (from Australia)
"After 3 weeks with the Super 8 Cast Frame drivers, mounted in the 2.8 cabinets, I'm thrilled with the results! I've been chasing great audio for decades, and this is the best audio $$$ I've ever spent. It's hard to believe that an 8 inch driver, in such a simple enclosure, can produce such satisfying sound. The only problem is that I'm staying up way too late at night ("Just one more song")! A good friend, who owns $15K in audio gear, just shook his head in amazement (and some depression) after listening to my system. If I had to use one word to describe the sound, it would be "alive", and, indeed, other speakers just sound dull and lifeless in comparison."--Doug Bennett
"I have been using the Super 12 Cast Frame drivers in the 2.8 enclosures for a few weeks now. They really are sounding fabulous. Much better then my SONUS FABERS, not even close! The speakers are so transparent and dynamic, with a real ease and life to the music. Everything else now seems like it has several blankets thrown over them. Love them."--Anthony Moore (from Australia)
"The 'Super 8's' just blew me away! They put my REFERENCE 3A's to shame (no easy feat). I threw them in a crappy old pair of boxes left over from a pair of KLIPSCH KG2's (10 passive radiator in rear) and still can't get over the sound in a crummy box!"--Dave Hutchings
"These speakers are amazing! I can hear everything so clear. When I switch across to my LOCKWOODS, with 15" TANNOY HPDs (Ex Abbey Road Studios) the sound now seems blurred, without definition between the different instruments. I've been playing my old studio multitracks and everything just sounds great."--Gary Stoner (from the UK)
"I have no words to explain how warm and perfectly balanced the speakers sound. I was blown away by the most natural response (and) effective output. We were totally speechless at the rate of sensitivity, clarity and depth. We are seriously thankful for your technical support and guidance."--Mahmood Hayat (from Pakistan)
"I received the speakers today and they sound excellent. They have much better detail, pace, and tonality than the MIRAGE OM-9. The Audio Nirvanas sound great."--Stacy Bragg
"I just completed a pair of Minimonitors with the Audio Nirvana 8" speakers and am delighted with them. When I compare them to my PARADIGM Titans, it is like comparing a high resolution image to low res, if I can use a photo metaphor."--Scott Cullen
"The soundstage and dynamics, from the Super 12 Cast Frame, leaves the SONUS FABER GP's way behind. The mids, highs, and mid bass are totally in a different class. You were correct, (by comparison) the SONUS FABERS sound like they don't have tweeters. And the SONUS FABER GP's cost about 6 times the price. The high end response is amazing. Very revealing is an understatement. Your speakers are amazing. To be totally frank, they are nothing but perfect ."--Paul Wood (from Australia)
"Initial impressions are: Very sensitive, great imaging, stage and presence. Smooth and detailed, plenty of bass (these are horn loaded into floor-coupled labyrinth). Surprisingly good on complex orchestral passages (tried some Mahler, Wagner, Dvorak), and just magic on chamber, piano and acoustic. Rounded off the evening with the Janet Monheit DVD, wasn't aware of the speakers at all, they just disappeared. I expect them to be even smoother when they bed in. Excellent units, very pleased. My TANNOY Broadcast Monitors are destined for the bedroom"--Ken Thornton-Smith
"Just wanted to drop you a line, after listening to a pair of your Super 10's for four months now. They continue to become more refined as time passes. I would have to say that these are the best speakers I have listened to. What is the most pleasant aspect of the Super 10's, is the three dimensional nature of the sound stage. Well microphoned acoustic recordings give an illusion of being in front of the listener at a specific spot. You feel like David Sanborn is standing in front of you. Nuances of the recordings are evident; you can hear David take heavy breaths between phrases. The highs (are) detailed, with no harshness. The 10 watt SE amplifier fills a large 20 x 20 room with sound which testifies to their sensitivity. The bass response is there and acceptable with acoustic bass recordings. Upon arrival of the drivers, I found the shipping container, box, and associated packing materials for the speakers were excellent. The quality of the construction of the drivers is impressive, at this price point. Front aesthetics of the drivers are top notch; I hate to cover them up with a speaker grill. Compared to conventional speakers, with the cost of 2 to 3 drivers and cross over components, this has to be the best performance to value for any speakers, anywhere, any time."--Michael Dubay
"I must say I might not send the $2500 AER speakers in for repair after all! The ANs beat the AER (and also beat FOSTEX) greatly in the highs. I hear loads of detail in the highs that were not there with the AER. I can't hear significant losses of detail, compared to the AER, which is surprising given the cost difference. By far the most important factor for me is cone 'breakup'. The ANs beat the AER's handily in this area. Best value in drivers I've come across."--Nicholas Perry
"I purchased the Super 12 Cast Frame drivers and I must say I'm hooked. I've owned the top of the line PHY 30SAG from France, which were $2700/pr, not including the open baffles, and the Super 12 Cast Frames blew them away. The Audio Nirvana Super 12 cast frame speaker is well balanced from top to bottom. I'm using the Trend TA-10.1 that I had almost forgotten about on a shelf. This is a great combination, with either my Emotive Audio or Reference line preamp. Please Don't miss out on a great musical experience."--Alphonzo Edmonds
"Why did it take me so long to find out about this? If I can build these things, anybody can. Loosely translated, that means build it, find any kind of an amplifier that exceeds a handful of watts, and you have instant gratification. My system that sits idle is a $13,000 custom. I hate to sell the expensive speakers, but folks, this is just too good to be true. I even quit watching TV--well, except for football. I painted the speakers flat black and my wife loves them. Go figure. She says they don't scream 'speaker.' She sits with me and listens to the tunes we listened to when we fell in love 37 years ago."--Jack Leebron
"I have been in this hobby for 45 yrs, since I was 15 yrs old. I have bought and sold so many speakers, over that time, I can?t even count. I have owned SPENDOR SP1?s, SPENDOR LS 3/5?s, VANDERSTEEN 2C?s, MONITOR AUDIO RS6?s and many, many more. These Super 8?s are the most natural sounding of them all."--David Kaiser
"The performance of your drivers is astounding, even without considering cost. When you asserted that I would want to sell my VANDERSTEEN Audio Model II's, once I heard your drivers, I thought you were being somewhat glib; but you were dead on. The VANDERSTEEN's sound, as you've described, "dark, dull, distant.....and boring!" What's worse, the low bass is muddy. The Audio Nirvana's reproduce mid bass with so much detail and punch, it's like my sub woofer has been upgraded as well. Mid-range and treble are coherent, detailed, and quite unlike any speakers I've had in my system before. Best of all, my amp, which used to run so hot I had to put a large computer fan on it, is now running cool, and the volume setting is almost 10 db lower than with the VANDERSTEEN's. No worries about clipping! Watching movies is incredible, because the details and intelligibility of ambient sounds and voices is startling. Even my wife was impressed, and that says a lot."--Ron Berard
"I bought the 'Super 8 Cast Frame' about a month ago. I'm using them in some TANNOY Saturn 8 cabinets, for now, until I finish my new ones. All I can say is they are totally awesome. They most definitely beat any other point source driver I have ever heard, and that includes 3 different sets of TANNOY dual concentrics.The midrange and vocal qualities are incredible and just seem to get the music right no matter what I play through them--analog sources, digital sources, tube amplification, solid state, low volume, high volume."--Kenny Carpenter
"Audio Nirvana Super 12 Cast Frame is an excellent speaker for "open baffle construction"!!!!! The sound is quick, big, open, 3D, very fundamental, silky, dynamic and very, very musical! The vocals are warm, very airy, focused with high resolution... The sound has weight, body, with plenty of colours. Listening to it is very thrilling... The piano really sounds like one. In sound quality this- "AN 12 CAST FRAME -can compete with... 5x more expensive speakers..."--Igor Macek (from Slovenia)
"Thanks for the great speakers, and good service. It's amazing. You have written a fairytale in the hifi business. This is musical art on its highest level. I use the speakers in an open baffle from J.E. Lab and the A.N. sound fantastic with my Audio Note 10W tube amplifier."--Kjell Egil Pinås (from Norway)
"I built myself a pair of open baffles with Audio Nirvana 'Super 12 Cast Frames' six months ago. When I took them to my brothers house last week, he was so astounded by the sound of these,--driven by a Tubelab Simple SE that I made (5 watts)--that he asked me to make him a pair. He is a drummer, and likes his music loud! These guys are so open and clear sounding that they blew away his INFINITY RSIIIB's."--Paul Foreman
"To say I am shocked, stunned even, at the sound I?m getting, would be an huge understatement. This is the most unexplainable, ?what is going on? experience I have ever had in my 30 years of being actively involved in this hobby. I continue to be stupefied. They have the transient speed, attack and detail resolution of my MARTIN LOGAN VISTA electrostats but with an ?organic? fullness, weight, tone thru the mids that sounds more real and natural to me. They just sound ?right?. The part that really is so astonishing, is in the bass region. I have bass, not a little bass, but loads of bass."--Mike Duckworth
"As soon as I switched on the AN12 cast frames, they sounded very, very convincing, straight out of the box without burn-in. I have always been a fan of high-end minimonitors, I have admired their precise, box-free soundstage. The open baffle ANs deliver all these and more. The sound is bigger, more natural, and easier to listen to. I still cannot believe the transients that these speakers produce, perhaps the best string reproduction at any cost...And the bass is simply amazing!! I thought that they would be producing too little bass in open baffle, but they actually produce quite a lot and it's very natural, totally free of boominess of any kind. It's just perfect for the sort of music I listen to (classical and jazz). The transparency and clarity of the midrange is unbelievable, perhaps the best I have heard so far. The highs of AN12 are smooth and effortless."--Zoltan Temesvari (from Hungary)
"Frankly, I've never heard anything like this! The impact, resolution, and speed of the Audio Nirvanas is well above what I had before. Now I have bass as realistic as a musical instrument! I did not expect this level of finesse in the treble I've heard, and neither this magnificent cohesion in the middle. My friends who heard them, even without being audiophiles, they were amazed by what they heard. Part of the wonder comes from the fact that this is the speaker with, by far, the smallest intermodulation distortion (IMD) I've ever tested! But I care a lot more what I hear than what I measure. Best regards from a happy customer."-- Alexandre Torchelsen Feldens (from Brazil)
"Your speakers are incredible. I listened to over 20 sets of speakers, including JBL, HIVI, TANG BAND, BOSE and SONY and Audio Nirvana is by far the best. In fact, it isn?t even close."--Steve Young
"Sound is class A. Wow, what a great speaker at a great price. Have been in this hobby seriously for 56 years and am very impressed. Best deal of my life."--Frank Giovino
"They sound absolutely amazing! The highs are nice and detailed and the bass is just right! Thank you very much!"--Doug Woodliffe
"I have built many pairs of speakers using CORALS, JORDANS, FOSTEX, PHILIPS. The Audio Nirvanas are my favorites, period."--Lewis Wagoner
"The Nirvanas resolution is unmached by any of my previous speakers! (too many to recall). The sound is very good indeed."--Sergio Avila
"The depth of sound is truly amazing, as is the stereo imaging. Many thanks."-- Michael Green
"The result now is absolutely overwhelming. They really get every detail out of the tracks! The Audio Nirvanas are really great. Thanks!"--Michael Grebner (from Germany)
"Got them in (CAIN AND CAIN Abby cabinets). Huge improvement. Performance is better in every way. I think anyone with the Abbys would be thrilled with the substitution."--Dave Harding
"I put the 6 1/2 inch speakers in and they are fabulous. The Audio Nirvana's are so much sharper with vocals and guitars.....that sound like mud in the old speakers. Thanks-I've been converted!"--Steve Rohrbacher
"I have made a new horn and mounted a FOSTEX 206 speaker for testing. You are right, Audio Nirvana sounds better, more clear and with a lot more bass sound output."--Rune Weltzien (from Norway)
"Your Audio Nirvana 6.5's are wonderful in the Voigt pipes . Can you send me the 1.3 tower plans so I can build a pair of speakers for the girlfriend? I have to do something with the FOSTEX ,which are toys compared to your Audio Nirvanas."--Kevin Kellner
"Your 6.5" drivers are much-much-much better than FOSTEX. They are more smooth and, at the same time, more clean. They have better high range. They are better in all ways."--Alex Chervyakov (from Russia)
"I have tested your Audio Nirvana 8 inch in our "Saxophon Cabinet". For me, after 100 hours, it is my favorite, a little bit "better" than the FOSTEX FE206E. Both much better than a LOWTHER DX2."--Horst Moller (from Germany)
"I compared Audio Nirvana Super 8 to FOSTEX FE206E, and AN is a clear winner, with more transparent sound and more extended highs. And then a friend of mine brought the "AN Super 8 Cast Frame" that he bought from you. This one is even better!"--Arif Wicaksono (from Indonesia)
"The speakers have now clocked over 75 hours. The highs have perfectly balanced out. The one thing that caught my attention was that the same amp never used to play the soundstage as accurately as it does with your speakers. My previous HARBETHS were so famous for their naturality and yours beats it hands down, with very accurate imaging and produces a very strong 3D effect! I was also surprised when I saw Arif Wicaksono, from Tube Lover Indonesia, building speakers from your drivers and mentioning that yours are the best he has ever heard. I believe him since he is a very serious tube amp guru and experimenter."--Dixon Chen
"I am sitting and chuckling, laughing out loud even, that sound can be this good. The danger is that I?ll stay up all night listening to just one more song. It just doesn?t get any better. I?m hearing lower register bass lines that I?ve only heard hints of before. Whatever your electronics, you hear what they can do. I did the 3? ports and the bass is both potent and elegant. The overall detail and musicality just exceeds anything you'd expect. I will never need another set of speakers. And the total dollars invested in these, compared to the sound, is just silly! Your plans and Super 12s have made me a craftsman, as this fabulous sound testifies. Audio Nirvana drivers make all generations of music sound amazing."--Brian Jarvi
"I hooked up my 2.8 Mark II Speakers, using your 8 inch Alnico Audio Nirvana drivers, and was astonished at the sonics of these speakers. I was completely mesmerized by the music, even digital, yes, heresy! Being an audiophile for over 40 years, I have owned practically every speaker design known to mankind, including jobs that cost up to $40K. Designs using moving coil drivers, horns, ion and ribbon tweeters, planars. Nothing I have heard has come close to the sound of these relatively inexpensive speakers. Nothing at shows either. I have 4 sons and a wife that all play instruments and I hear a lot of live music, so I hate that typical hi-fi sound that I usually hear at audio shows. You know, the hyper-detailed, clinical, small-image, flat soundstage sound that doesn't sound like live music. The AN speakers sound like music with the immediacy, presence, dynamics, and coherence of real life. My other speakers will be up for sale on Audiogon."--Roger Lawry
"Build quality excellent and very well packed--they look great. Very pleased with the sound quality--just what I was hoping for, having read the reviews on your website. Bass is fine, for my room, so I made the right choice with the Minimonitors (with Super 8 Cast Frame drivers). If I had to describe them in one word, I would just say that they are very 'musical'. Detail is there, emotion is there, in voices and there is plenty of 'grind' for heavyish electric blues --but overall I am listening to the music, not listening to a hifi setup. Sorry to say this, but I think you have just lost a customer --I reckon that these will be the last pair of speakers that I buy!"--David Ford (from England)
"Amazing! Even deep bass is at an acceptable level. They are so mellow and crisp, clear and give an astonishing three dimensional sound image. Voices are clear. Regarding dynamics and imaging, the AN Super 8 Cast Frames are crazy good!"--Michael Grebner (from Germany)
"Spectacular! I hear sounds and sonic information I did not even suspect thay could exist on my favourite records. It is incredible! What bass and what voices! What high frequency extension! What SPL! Impressive! I am absolutely in love with them. I am going to spread the word to all my contacts sharing my same passion for good sound! I am very, very happy!"--Paolo Bottiglione (from Italy)
"Amazing speakers. Holy cow! Huge sound stage, precise imaging, and lush sultry vocals, just amazing."--Ramiro Gonzalez
"I am very impressed.....I can't turn my new speakers off!!! They sound so much better than any pair of speakers I have built 'til today!!! The sound got even better after just 20 hours.....I feed them with all sorts of styles.....they can serve all styles of music with stunning results!!! Great speakers!!! I highly recommend them to the enthusiastic music lover, regardless of their musical tastes!!! Very well packed also!!! Great product!!!"--Christoph Rogers (from Germany)
"I am VERY VERY impressed with these magnificent drivers. I think that this very solid performance by a single full range driver, on open baffle, is rare. The authority in the bass and lower midrange is spellbinding to me. I don't think there is any need at all for a subwoofer, on some tracks I can register a very solid 30Hz output! This is such a remarkable driver! I don't think there is any other fullrange driver in production today that can do this remarkable performance on open baffle."--Hans-Johan Asander (from Sweden)
"I am a musician and I've listened to hundreds of speakers in every price range. With Super 8 Alnicos, and a new design bass reflex cabinet, I couldn't believe my ears and felt sorry not noticing and having these speakers before. Then, I found tons of mixing mistakes in my own music! Never listened to this flatness, quickness, well balance, softness, clarity and detail combined!"--Emre Altan (from Turkey)
"First listening: the Fostex are still as I described them, true to the original sound. The Audio Nirvanas add to this without subtracting anything. A bit more air between the notes, an increase in timbral accuracy, better imaging that,--in the near-field listening that I do--is especially difficult. The sound seems to exit the speaker a tad more like it does from the original instrument. I am very happy with my new speakers, I feel even more involved!!"--Jan Middledorf
"Well, I am a believer. These Audio Nirvana Standard 6.5's sounded wonderful from the first note. I compared them to my NEAR 10Ms, which I have always liked. The ANs sang! They are more efficient than the NEARs so it was a bit difficult to a/b due to the volume difference. Clearly the ANs are great little speakers. I am looking forward to getting the 8's . I expect that I am not going to be a one time customer."--Len Hendrix
"I finished the speakers on Friday and have been enjoying them immensely! I must say that your Super 6.5 Cast Frames outperformed my friend's 3-way DIY speakers. The drivers he uses were much more costly than your own drivers, as they included premium WESTERN ELECTRIC midranges. I even preferred your Super 6.5 Cast frame Speakers over $10k+ QUAD electrostatics! My "flagship" KLIPSCH reference speakers were blown away, in all aspects of sonic quality, and they cost me over twice as much money. The treble is the best I've ever heard through any speaker. It is very extended and is not in the least bit "bright." The speakers are extremely detailed, and imaging actually has a meaning to me now. Even through my small 10wpc amplifier, the bass response is very accurate, and the speakers can play LOUD if I need them to. The soundstage is very wide and allows an accurate reproduction of live performances in my very own living room!"--Everett Seay
"Shortly after hooking up the Super 3s I started to doubt my ears. The vocals were incredibly lifelike. Tonal balance seemed right on and the imaging was the best I had experienced. I still have ASCEND, PSB and EPOS speakers and these Super 3s are clearly better. My observation was even confirmed by my wife, who could care less about my goofing around with speakers and sound quality in general, who made a point to comment about how lifelike the Super 3s sound. She was surprised the "homemade" speakers sounded so good and informed me that I was an idiot for trying all the others if it was this simple. I would challenge a comparison against any of the above, I have or have owned. Every comment you make about the superiority of high quality fullrange drivers is holding true. "--Mike Harmon
"I'm listening to Dark Side of the Moon, one of my fave raves of all time, and it's never sounded better from speakers. The soundstage is amazing, the precision bang on, and they really go very loud indeed."--Steve Dixon (United Kingdom)
"Tonight we were in Audio Nirvana. There was nothing that my system could not resolve.....detail of every kind, timbres, depth, you name it.....Oh and I did not mention the bass!!! I can hear every little note, the finger on the string! I heard some extra voices on Wish You Were Here.....I can?t imagine any possible improvement."--Radu Barca (from Canada)
"Just wanted to let you know that I have received my 5.6 Mk II, with the Audio Nirvana Super 12 Alnico and, my God, these speakers are overwhelming! I have never heard such powerful, unveiled and detailed sound. It just knocks me off my feet. The soundstage, realism, and stereo imaging is almost uncanny, it's like the music is performed live in your room. Just wanted to say that I am really happy with these speakers.....and a bit shocked hearing music like this. Frank, at Wyatt Acoustics, did a really fantastic job with the veneer (a lovely american swirl walnut). He is also very nice to work with. My warmest recommendations."--Anders Hansson
"Wow! I put on Miles Davis playing Bye Bye Blackbird because that is somewhat of a reference for me. I'm a musician and I've been trying to learn the bass part off of that song for a long time, but the bass is fairly far back in the mix so it's difficult to pick the bass out clearly. Or at least, that's how it was with the old speakers. Last night, I could hear every bass note clear as day. And Miles's trumpet was very sweet and blended into the mix more."--Clark Dollard
"Last year I bought a Super 3 Cast Frame Audio Nirvana speaker pair. After comparing them with FOSTEX and also TANG BAND 3" speakers, I have quickly chosen the Super 3 Cast Frame. It has incomparable bass, great midrange frequency response, with no "siren effect", and a soft high frequency response. It's always a pleasure to listen to music with these speakers."--Ricardo Tchobnian (from Brazil)
"These are phenomenal! My system has been running for almost 10 hours straight! Love the speakers - and being a guy who has a home built kit tube amp, I must say this is the perfect addition. FYI I'm at about 40% of my 8W per channel amp and I think I'm making the neighbors angry. Love the high efficiency, low power system!"--Brian Cline
"I just have to say your speakers sound fantastic. They faithfully reproduce everything our processors can throw at them and I am very impressed! I was absolutely in love with the Super 10 Cast Frame, but when Mick received shipment of the Super 12 Cast Frames (I just played through them last night) they sounded amazing!"--David Farlow (used for guitar and musical instruments)
"The pair of 8" drivers I bought earlier this year are well housed and performing superbly well. My son was so impressed with mine that he has asked me to build him a set for his 30th birthday."--Anthony Cross
"Your Minimonitor.....is being appreciated.....Nice , crisp, without shouting.....no sibilance.....great driver .....nice BOX.....heavy and well built..... Need another pair to round out the balanced sound....hard to balance with less efficient speakers.....the other speakers CAN'T compete....."--W. Gordon Ray
"I received the speakers I purchased from you last night--8" Audio Nirvanas-- and put them in some appropriately sized folded horn enclosures I made some time back. Directly wired to a T class mini amp, these things are as good as I have heard. Now I am truly excited about listening to cd's again. Thanks for the great bargain and good luck--these drivers are right up there with the other ultra-fi bargains."--Terry Hance
" I have been using the Audio Nirvana 1.3´s for 2 months and I can tell you that I am really enjoying them. I have a pair of AURUM CANUS V2M (US$ 2,000) and the 1.3´s are far better. It is the first time I've had a full range driver and I think it`s impossible to get back to a traditional 2 way monitor after listening the 1.3. They sound great. They disappear and there is only the music. In vocal jazz, the singer is in the room with me. Great!! 3.5 Watts are more than enough to drive the speakers with ease."--Alejandro Schweitzer (from Chile)
"I am enjoying a pair of your Super 8's in Dayton Audio .75 cu. ft. cabinets. I had owned the 8" FOSTEX in the OMEGA 8r Grande cabinet, in the past, and these are a big imporvement over them. Mids/treble are fantastic. VERY detailed in my room. Bass.....has great pitch and definition. To my ears, the OMEGAS were just too peaky. They were fun for some things, but ultimately not enjoyable for the long haul. Thanks for bringing some sanity to the world of audio."--Joe McMahon
"I have to say that these sound terrific! I have heard everything out there, with the exception of the extremely expensive FEASTREX from Japan and the LOWTHERS from UK. These beat all of the FOSTEX models I have heard by a big margin. The highs are very accurate, the most accurate I have heard from any FOSTEX. The mids don?t shout and are also accurate and very involving, perfect! The bass is accurate , very articulate."--Fernando Cruz
"Your speakers sound really good. I like the transparency of these speakers, it's a completely new level for me - I'm going to sell my MONITOR AUDIO RX2 (official price of new ones: 840 euros - sounds like a joke when compared to the price and quality of yours - they sound quite plastic and over-equalized, which I wasn't aware of until now)."--Daniel Marcin (from Spain)
"They sound great--they have a liveliness to them that none of the other speakers I have heard seem to have. What's amazing to me is that 8 watts per channel (tubes) drives them fine. All the hype about high power amps and multi-speaker systems is just that as far as I can (now) see! Thanks for the fast service, and more than that, for taking the time to explain how I could use the speakers in cabinets I had."--Tom Larson
"The Audio Nirvana Super 8 Neodymium sounds gorgeous in my horns. Any good record makes me feel in the concert halls of Lucerne or Zürich. In comparison with my old LOWTHERS, the Audio Nirvanas are another kind of an animal: much more "consistent" - I mean much more "meaty" - a grand Steinway is palpable in the room, and the floor vibrates on the lower registers in fortissimo, and the strings are tremendous in delicacy and details (that astonished me)."--V.M. Ionescu (from Switzerland)
"I received your 8" (Super 8 Alnico and Super 8 Cast Frame) and I have compared to the FOSTEX FE206 and LOWTHER DX4 (a loan from Lowther France). The cabinet was a ML TL by Martin King calculated to fit the DX4 speaker. The Super 8 Alnico sings as you said, relaxed, smooth, and detailed. The LOWTHER DX4 was unlistenable in this kind of cabinet. I compared the two AN to the FOSTEX FE206 and the AN are far better. The FOSTEX 206 has a big distortion in the high frequencies. The Super 8 Alnico has a lot more bass than the others (LOWTHER, no bass at all). All you said to me, about all these loudspeakers, is right."--Joel Perret of L-Acoustics (from France)
"The Audio Nirvanas sound wonderful. I have lived with them for a while now, using the standard cast model in a PA monitor environment at high SPL's and the Neos with the high end kit in place of LOWTHERS. They handle high levels extremely well and yet have enormous subtlety and a good extended Freq. range. They are very efficient, fast and dynamic without the aggressive quality that can mar many of these full range drivers like the LOWTHER. They are now my recommended speaker."--Paul Davies (Ax Horn Loudspeakers from the UK)
"The Super 8s are in the LOWTHER Medallion cabs and sound great. The Alnico 8s are killer, as well, in your Minimonitor cabs. The Super 15 Cast Frames sound great in the funky Heathkit cabs, rendering the ALTEC 604Gs useless!"--Reid Brody
"The 5.6 cabinets are truly impressive. With the Audio Nirvana Super 15 Coax there is a wide sound stage, accurate imagery, stunning midrange, with an open clarity. And testing with the Sheffield CD, the drum attack is stunning, beyond the size of the box. In fact you are not really aware of the box. The TANNOYS sound restricted in the midrange and woolly in the bass, by comparison, and the highs lack the extension and detail. No competition at all really."--Murray Furze (from Australia)
"Fired up the Super 15's this afternoon. They have totally exceeded my expectations. My wife cannot get over how smooth and clean they are. They cruze through everything!"--Neville Smith (Australia)
"They simply sound amazing, glorious, so much resolution, illumination of individual instruments, and very musically engaging. An ?eargasm? if you will. Thank you for making such an exquisite quality of sound so affordable."--Ray Gonzalez
"Words cannot express how truly amazing these cabinets are when combined with your Audio Nirvana 8 inch drivers. It's like listening to all of my music for the first time. The difference in these speakers and other high end audio equipment is night and day! Most importantly, your availability and rapid response to my questions during construction rightfully gave me a great deal of confidence. Many many thanks. And anyone who says fullrange won't produce enough bass is crazy."--Chris Stanfill
"The speakers are phenomenal! They are more than just a pair of speakers. They are like therapy to me--as I listen to several albums a day. And if I don't, I miss it. I can't come up with enough praise for the speakers."--Dan Trefz
"I've been listening all afternoon to the sharpest transients, steepest wavefronts, and the most transparent sound I've had in a long time!"--Al Cook
"The speakers sound brilliant and very sweet!!! My song collection has got a new life with this system!"--P K Raveendranath (from Oman)
"I have just finished my 1.3 enclosures, with the Super 6.5 drivers, and I must say I'm truly impressed! After only a few hours of break-in time they sound absolutely fantastic! I have never heard such great imaging before! Seriously, in holographic performance I think they even exceed anything I've ever heard."--Harald Gronvold (from Norway)
"Thanks again for your fine drivers. The regular 12" are really showing their stuff in my new baffles. Dynamics are incredible and unrestrained."--David Wilkerson
"My Super 8's are now mounted in Voight horns (a quarter wave transmission line with a linear horn taper). The drivers are in line with your ears when you are seated, the sound is beautiful, bass now sounds eerily realistic. The 2.8's are next!"--Andre Jordaan (from South Africa)
"I bought the Audio Nirvana Super 8 Cast Frame. I built an enclosure TQWT and the sound is amazing, wonderful. A friend could not believe what he was hearing. Deep bass, (great) treble and very accurate . I have heard many speakers of very high prices and nothing as real as these. I am very happy with my speakers."--Cesar Lorca (from Chile)
"I finished the speakers and they sound fantastic. It's the classic 'I hear stuff I never heard before?' I could not be happier with this purchase."--Tom Ingledue
"After only a few hours, I can tell these are going to be very good indeed. Live recordings sound amazing."--David Wilkerson
"I have been listening to these speakers for a while now and they are the best I have ever owned or heard."--Radu Barca (from Canada)
"Got the speakers done and they sound excellent with my old Scott integrated amp. I am no audiophile, but they make my B&W matrix speakers ( with multiple other amplifiers) sound as if they are muffled. Thanks."--Paul Gandy
"I just mounted my Audio Nirvana 12" cast frames. I was so astounded by what I heard. They are a steal. I cannot believe the bottom end, along with the highs on these drivers. They sound unbelievable."-- David R Greene
"Finally got my cabs finished last night and fired up the 10" AN's. I didn't stop grinning for hours! Not only is there more high end detail than I expected, there was plenty of bass . And efficiency! I'm running my tiny Decware Zen amp with tubes that should have been replaced 5 years ago and I'm still only at about 20%. Thank you for bringing the real sound of music back into my life! "--Nicolas Tipney (from Canada)
"The Super 12 goes very nicely down to 28 Hz! The speakers are great. The efficiency of the speakers means that high power is not required! "--Ronald W. Anderson
"I have been busy listening to a number of full range eight inch drivers plaved in 150hz tractrix horns. Your Nirvana Super 8's were my favorite drivers in the front horn application. They offer a uniquely liquid, yet detailed perspective that I found very enduring."--Lance Akridge
"I am definitely in heaven with your AN Super 12 Cast Frame. They are just marvellous! They sound so astonishing."--Paolo Bottiglione (from Italy)
"These drivers are simply magical."--Dan Henson
"The Super 6.5's sound absolutely fantastic. Totally balanced, full response."--John Haggins
"The Super 12's are well broken in now and sound pretty amazing. All I can say is WOW! What bass and great imaging, just amazing!"--Ramiro Gonzalez
"I have received the Super 10 Cast Frame and am thoroughly impressed and enjoying them! They sound just 'superb'- they recreate the soundstage unlike anything I have heard."--Manish Vichitra (from India)
"I was working on a speaker project--it was basically a clone of the Emerald Physics CS-2.3--and I just couldn't get it to sound right. As a test, I pulled out a pair of your Super 10's and installed them in place of the EMINENCE/Selenium coaxial combo and was literally floored by the improvement."--Dave Harris
"I bought a pair of the Super 12 Cast Frame drivers a while back. The sound was great and the more I listened the more I liked them. My old monitors sounded good, but lifeless and overly subdued compared to the ANs. So, I?m here to tell ya that I can?t go back to regular speakers. I agree that these speakers are fun to listen to and that they really convey a live performance that regular speakers just can?t match. Also, they are never fatiguing. They just sound right!"--Scott Riegel
"They sound sensational, driven by a Trends 10.1 tripath amp. It's freaky that such a tiny amp can successfully drive such a huge speaker system, but then it is also freaky that there is no tweeter or dividing network. The bass is solid down to the 20's with no problem (I have a 1/6th octave real time analyzer hooked up at all times, so I don't have to guess about frequencies). The quality of the bass is excellent, as multiple bass instruments do not get muddled together. They are just a blast to listen to."--Larry Kornfeld
"I had to talk to my lawyer.....that's right, I want to sue you. You have ruined an Italian family. The speakers sound so good that I am doing nothing all day but listening to all my music over and over again.....I am trapped!"--Enea Scagliarini (from Italy)
"When I was listening to the Audio Nirvana speakers - I realized that it is the sound I was looking for for a long time. So I have an interest in making a listening room where people could come and hear the Audio Nirvana speakers and feel the music, and be touched by it (like I was)."--Edijs Apenitis (from Latvia)
"I just finished installing Audio Nirvana speakers in my SUV. The sound is amazing. The vocals are uncanny. (but you knew that already) The highs are great and not harsh. What a difference in sound, even with the stock amp and head unit. Bass is good. Overall clarity is supreme. In fact, my son was riding with me and played some of his songs from his Iphone. Vocals were so clear I could finally understand the lyrics!"--John Andrews
"Man, do they sound good. Great imaging and soundstage. I just finished a listening session that went from the Benedictine nuns to the Beatles and everything sounded great. Audio Nirvana has to be the hi-fi bargain of the century!"--Gilbert Wildin
"Wow, the sound definition is very complete, nice low tones with very good instrument separation and clear sound. The speakers are very impressive filling not just the room, but the full house. The sound image is better than my headphones with my tube head amplifier."--Milton Ruitort (from Puerto Rico)
"I wanted to let know that your help has been fantastic. Your designs, the speakers (OMG!), and email support has resulted in a pair of speakers that have blown me away. Way beyond my expectations. These speakers are really amazing. There's so much detail revealed in the sound. It's an exciting sound but lush. I am really happy with your service."--David Bonser
"My Dad's comments, on the phone, was on how good the sound was with the new 6V6 Ultralinear amp. He says it is nothing short of breathtaking and he just cannot believe how good it is. He said he is listening to his jazz CDs and it totally blew him away. He reckons the sheer separation and oomph, it has, is startling and it?s all a little bit unreal in how good it all sounds. He loves this little amp with the big lovely sound."--Grant Thornbury (from New Zealand)
"The 6V6 Ultralinear amplifier is superb, far better than I imagined! To say that the amplifier is amazing is an understatement! I cannot believe the detail that I am hearing in such a crisp manner. I am so appreciative of the quality that you produce for such an affordable price!"--Dan Robinson
"The 6V6 Ultralinear sound is really different from conventional amplifiers. There are a lot of details and it is not necessary to use treble and bass. I can hear the whole frequency range with natural balance of all parts! Pink Floyd sounds better than it was with top semiconductor systems before! Thank you for this perfect amplifier!"--Timur Sarykulov (from Kazakhstan)
"WOW! Extremely nice work. No 'kit look' here. I have seen a lot of range when it comes to quality, and this is up there with the stuff I can't afford! I would like to thank you for selling one fine piece of gear (Audio Nirvana 6V6 Ultralinear Amplifier). The craftsmanship is as good as anything I have ever owned, and I have owned a LOT of equipment in my time. Thanks again for your great product."--Greg Peyton
---